Give Me 10 hours and I'll Prove Your Treatments Improve Immediately !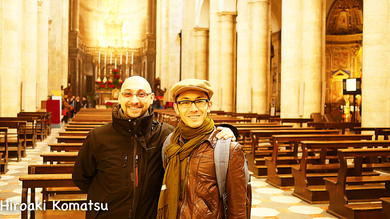 Hello. I'm Marco Superbi. I live in Torino Italy. I work my clinic as a bodworker therapist.

Now,let me talk about my sotai history. I think the first time I heard about sotai was in 2004 reading the Kiiko Matsumoto books and Yoshio Manaka books. That was the first time I heard Dr Hashimoto's name. I loved the whole things and I start to research about it.

I think one or two years later, one of my good friends went to Japan. And I found two books about sotai. It was really great. I could read the principles of his thinking but still was hard to understand. So I kept dreaming and praying(omaginatiing) about how sotai really worked.

And at last, my dream came true in December 2015, after long time of dreaming. I found Komatsu Hiro Sensei and he introduced me to this knowledge, and to one of Dr. Keizo Hashimoto's students "Maruzumi Sensei". I think life is very magical.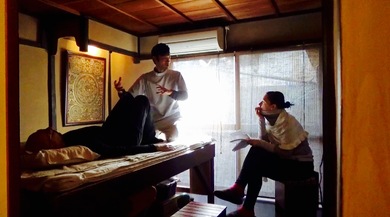 I got amazing techniques in a very short time Even Though I was a sotai beginner!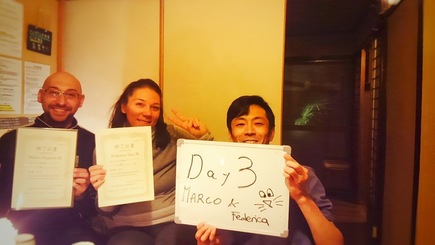 Hiro Sensei taught us many sotai techniques, and also the newest sotai techniques.
Hiro Sensei said that the classic sotai techniques and the new ones were very difficult and complicated. That's why it's hard for beginners of sotai to study. And especially for people from other countries. But this newest technique is much easier and useful for beginners than before.
In fact, I could have great results to use it when I come back to Italy soon. Even though I had just only 3days of studying.It was really amazing.
But I was in panic. Because……
This newest technique was found by Maruzumi sensei and arranged by Hiro sensei. Then Hiro sensei asked Maruzumi sensei in their meeting. "What is the best way of spreading the name, to the world?" Maruzumi answered "it's better to use an Italian name, but it is up to Marco to decide."

I was in panic when I heard it from Hiro sensei. This is a big responsibility for me. But I lived up to the challenge. The name is SOTAI INTUITIVO. INTUITIVO means like internal vision in Latin.
Let's study the series of SOTAI INTUITIVO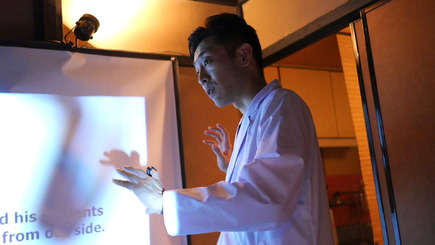 Hello. I'm Hiro. I'm a s
pecialized SOTAI and Licensed Anma,Massage Shiatsu therapist.
The series of SOTAI INTUITIVO is arranged for foreign therapist to learn SOTAI smoothly as
Marco wrote
.
If you learn SOTAI as Japanese style,It usually need to take a long time for use them. But, it's actually very difficult for foreign therapists. That's why I had to arrange SOTAI. Otherwise Sotai can't spread to the world.
Improve your treatments immediately!
If you have my SOTAI lesson, your knowledge of the techniques are going to improve immediately.
For example:
Sotai intuitivo will make your client's symptoms get better for a short time and a few techniques. Therefore you are not going to be tired anymore.
Additionally you can learn both techniques of treatment and self-care at the same time. Because sotai intuitivo is useful for self-care. So if you tell it to your clients, they will thank for you more than ever before. Exactly you could help your clients's recovering and improve your health condition also by it.
But you might think of such a thing. "I wonder if I can adopt sotai intuitivo with my treatment?" It's no problem. I can adopt it. Actually many Shiatsu therapists in Europe adopt sotai with shiatsu.
SOTAI INTUITIVO I LEVEL 1 Training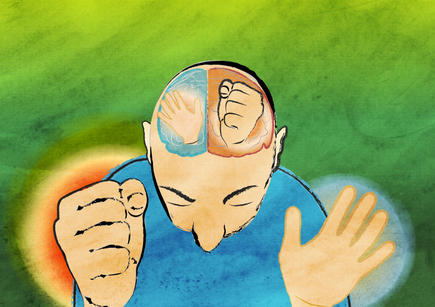 ~ Subjects and Contents ~



・Relationship between Brain and Body.
・The Story of SOTAI INTUITIVO
・The Magical Template "SOTAI INTUITIVO"
・Try The Most Simple SOTAI INTUITIVO 【SOTAI Diagnostics】
・How to Make Your Client's Aware of Their Symptoms With a Few Techniques in a Short Time.The Key is…
・Essential Mind Set for the First Rate Therapist.

・SOTAI Visual Inspection
・SOTAI Palpation
・SOTAI Mobility Test 【Teaching Techniques】
・How to Resolve Many Pain Possibilities at the Same Time
・Seated Position Techniques
・Supine Position Techniques
・Prone Position Techniques

・How to Make Your Client Feel Comfortable After Your Treatment
・The Useful Ways of Patient's Daily Life for Their Recovering
・Examples of Self Treatment 【The Secret of SOTAI】
・Difference between Dr.Hashimoto Keizo and His Students
・How to Change Your Condition and Give Great Change to Your Clients
・Practice The Secret of SOTAI 01
・Practice The Secret of SOTAI 02
・Practice The Secret of SOTAI 03
・How to Get Your Original Body and Mind Back Reduce Fatigue During Your Treatment
・The Way of Relax Deeply Both You and Your Clients Regain Mind and Body Wellness
Testimonials
Marco Superbi


Torino Italy, Practitioner in Tuina, Acupuncuture and Moxibustion
Federica Vaio
Torino Italy, Beauty therapist and naturopathy therapist
Rande Lucas
Anchorage Alaska, Practitioner in Shiatsu, Chinese medicine
Nadine Daniel
Avignon France, Practitioner in Acupuncuture and Moxibustion,Shiatsu
Tuition Fee
The price of level 1 training.
140,000JPY(600minute)